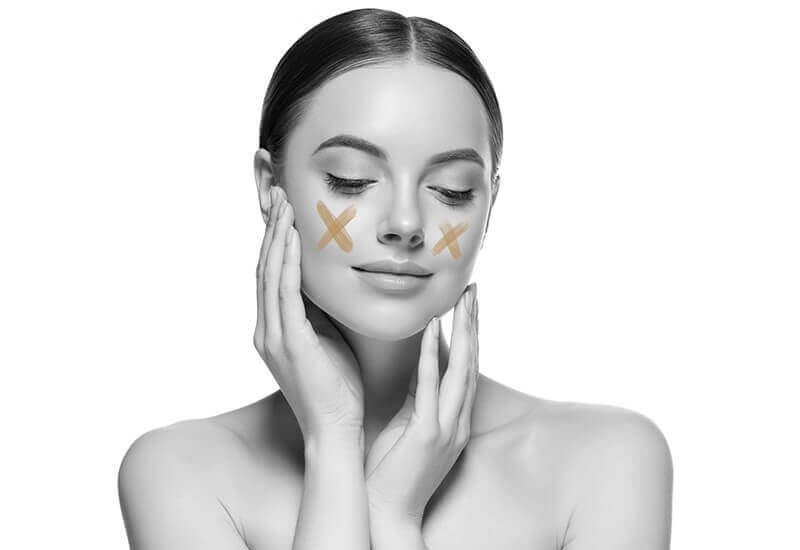 The ideal facial aesthetic shape is often referred to as the heart shaped face. Our cheeks create the top mounds of this "heart" and are very important in a person's overall look. To achieve a natural and youthful result, modern plastic surgery is no longer just about volumizing the cheeks to unnatural levels, but takes into account their 3D structure, harmony with the rest of the face, and high definition contours for a customized and comprehensive management. Whereas in the past smile lines were seen as areas of hollowing that required filling with volume, we now address the face in a holistic way and improve smile lines by creating a lifting effect through contouring the cheeks.
During your consultation, Dr. Saman analyzes the entire midfacial anatomy to create a customized treatment that results in the look the patient desires.
With so many surgical and nonsurgical options available, a full consultation is needed for Dr. Saman to analyze your mid facial anatomy, discuss various options available along with their pros and cons, and to go over your specific wishes and wants. Once that process is completed, Dr. Saman will guide you through selecting a customized treatment that best suits your anatomy and compliments your desired look. Some available options can be summarized below.
Click on each treatment to learn more.
Cheek Enhancement Options

Temporary volumizing for a fuller, more youthful mid face with modest lift effect

Buccal Fat Removal

In-office procedure for permanent removal of cheek fat pad to create a contoured look

Accutite Cheek Contouring

Permanent solution for skin tightening and lifting of the cheeks with surgical-like results

Permanently volumizes and Improves deep lines and wrinkles of the cheek and mid face

Temporary nonsurgical alternative to cheek lifting with moderate lifting effect

Permanent solution for volume, less suitable for contour issues

Permanent solution for cheek volume and contour in select patients
Reviews
"Wow!!!! Dr. Saman is fantastic. He is very intelligent and his staff is overly on top of their game. Upon walking in the office, I was greeted my Maegan who had all of my insurance information ready for my procedure. They took me back as soon as my paperwork was complete. I really appreciated not having to wait like I have in other offices. Dr. Saman answered every question I threw his way. I feel beyond comfortable in his hands. If you're looking for a doctor who will WOW you then you should see Dr. Saman."
- A.J. /
Yelp /
Aug 12, 2019
"Dr. Saman and his staff are amazing. I had an in office procedure, and was very satisfied with the treatment I received from beginning to end! I highly recommend him and his practice."
- R.C. /
Yelp /
Jul 11, 2019
"My mom and I visited Saman's plastic surgery office because she wanted some Botox done. I was very impressed with the staff and the service they provided us and how they made my mom feel very comfortable being there. Sheeva, their Persian speaking MA, was very resourceful and made the documentation and consultation process much smoother."
- A.I. /
Yelp /
Jul 01, 2019
"This review is long overdue. I had a revision rhinoplasty performed by Dr. Saman in February and cannot express enough just how happy I am with him and with my results. Dr. Saman always patiently and actively listened to my concerns and questions, always taking his time to explain his thoughts and recommendations in return. Within the first moments of him walking into the room, it was apparent that Dr. Saman is extremely knowledgeable and enthusiastic about his patients and his work. Not only is Dr. Saman an amazing and meticulous surgeon, but he turns his craft into a true art form, understanding that mere millimeters make all the difference for the best results. Most of all, it has always been blatantly obvious that Dr. Saman deeply cares for his patients' happiness and well-being, wishing them newfound comfort and confidence after their procedures. Cannot recommend Dr. Saman and his wonderful team enough."
- S.W. /
Healthgrades /
Jun 26, 2019
"I have had a great experience with Dr. Saman and his office staff! Huge thank you to Dr. Saman for fixing my nose!"
- J.L. /
Yelp /
Jun 25, 2019
Previous
Next