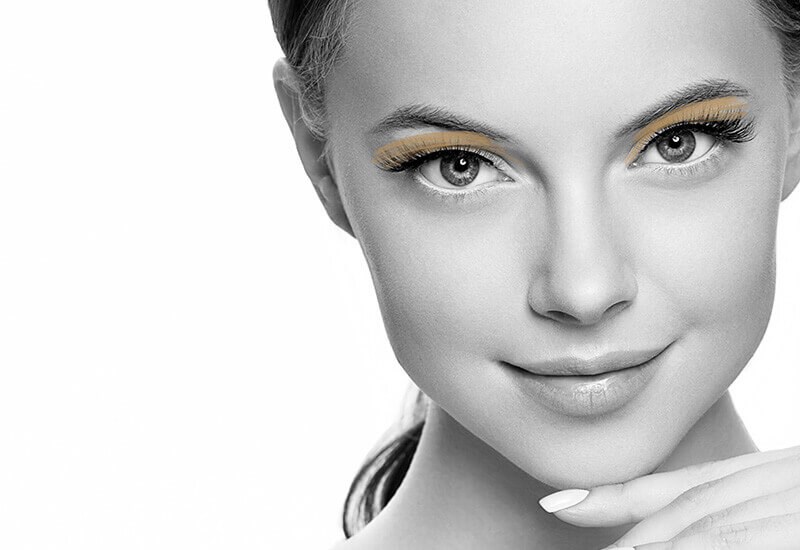 Eye aesthetics are extremely important in a person's overall look. To achieve a natural and youthful result, modern plastic surgery is no longer just about excising excess skin but also takes into account improving eyelid volume, brow symmetry and contour, and periorbital hollowing and dark circles for a customized and comprehensive management.

Dr. Saman analyzes the entire periorbital anatomy to create a customized treatment that results in the look the patient desires.
With so many surgical and nonsurgical options available, a full consultation is needed for Dr. Saman to analyze your orbital anatomy, discuss various options available along with their pros and cons, and to go over your specific wishes and wants. Once that process is completed, Dr. Saman will guide you through selecting a customized treatment that best suits your anatomy and compliments your desired look. Some available options can be summarized below.
Click on each treatment to learn more...
Eye Enhancement Options

Blepharoplasty

Surgical excision of excess skin and protruding fat around eyes

Permanent nonsurgical alternative to blepharoplasty

Temporary nonsurgical browlift using BOTOX and fillers

Permanent repositioning of the brows for a more youthful look

Temporary nonsurgical browlift using PDO Threads

Nonsurgical modality to address deep skin wrinkles around eyes

Chemical Peels

Nonsurgical modality to address superficial skin lines & wrinkles

PRP Injections

Improves lower lid texture and decreases dark circles

NeutralEyes

Excellent eye cream for daily use
Reviews
"From? the? family? of? Hunter? Burkhalter:One? year? ago? today,? we? were? blessed? by? Dr.? Saman? coming? into? our? lives.? Hunter? was? involved? in? a? severe,? life-changing? automobile? accident? in? which? his? face? was? significantly? damaged.? Most? of? the? bones? below? the? eye? were? shattered,? both? upper? and? lower? jaws? were? broken? and? the? lower? lip? was? ripped? in? half.? ? Dr.? Saman's? expertise? is? evidenced? a? year? later? as? we? look? at? Hunter's? beautiful? face.? You? would? never? believe? he? suffered? such? injuries.? In? fact,? no? visible? evidence? remains!? In? addition? to? his? medical? expertise,? Dr.? Saman's? bedside? manner? and? level? of? compassion? is? impeccable.? He? is? the? kindest,? most? thorough? doctor? this? entire? family? has? ever? encountered!Our? faith? tells? us? that? it? was? not? by? chance? that? Dr.? Saman? was? there? for? Hunter? that? night.? Thank? you? Dr.? Saman? for? everything? you? contribute? to? t"
- A.B. /
Healthgrades /
Mar 25, 2020
"I have seen Dr Saman twice now and every time is better then the last. He and staff are personable, knowledgeable and helpful. I really appreciate his and the entire staff expertise."
- K.H. /
Yelp /
Mar 15, 2020
"Dr. Saman has been fixing a scar on my forehead above my eyebrow. After doing Morephus8, Botox, and separating the scar tissue from the muscle the scar is completely gone. I'm utterly amazed at my results. If you are looking for an intelligent doctor to come up with the very best treatment course for you check him out!!!"
- A.J. /
Yelp /
Feb 08, 2020
"I went to Dr Saman for surgical removal of my thyroid.  While no one wants to go through surgery for cancer, Dr Saman and his staff made the experience as easy as possible and did a great job minimizing worries.  There is always a ton of testing, coordination and review and his team did an amazing job.  Highly recommended him for his surgical skill and his office for their prompt, efficient, quick assistance.   After I heal from this surgery, I will gladly use him for his surgical skill in plastic surgery."
- M.P. /
Yelp /
Jan 12, 2020
"I never write reviews, but I could not pass on an opportunity to express how amazing Dr. Saman and his team is. I've hated the shape of my nose since I was about 12 or 13. After doing lots of research on rhinoplasty, I felt that Dr. Saman was the perfect man for the job. I went to the consultation, and him and his team were so sweet and supportive. You can tell that they really care about your concerns and I immediately knew I was in good hands. The surgery is over now, and I am 100% satisfied with the results. I think Dr. Saman and his team were just as excited as me during the reveal. These people live to see their clients smile! I can't say enough good things.  Amazing experience."
- K.A. /
Yelp /
Jan 07, 2020
Previous
Next