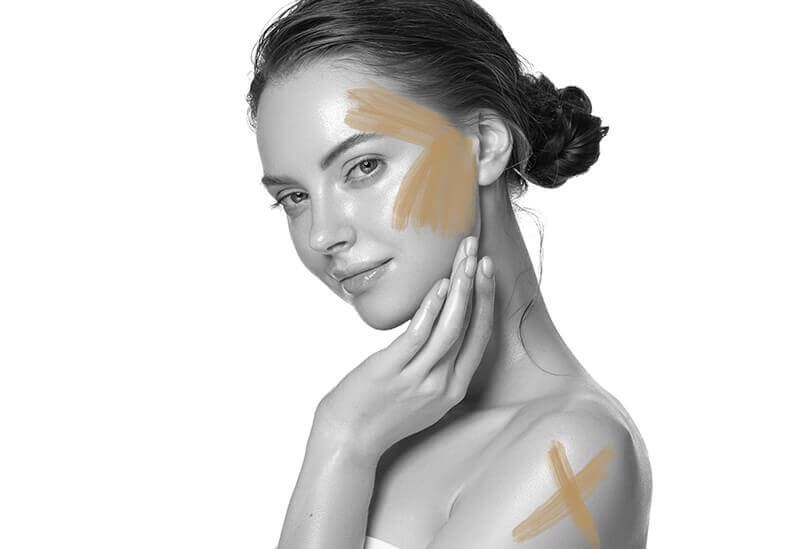 At DallasFaceDoc, our philosophy in skin care is comprehensive and as complex as our skin anatomy and physiology itself. We believe in order to achieve or maintain glowing and flawless skin, it is important to evaluate all components affecting this organ and address them one by one in a systematic fashion.
When analyzing the skin, among many other factors, skin tone, color, texture, and quality are evaluated. Presence of scars (acne scars or surgical, etc), size and location of skin pores, presence of discoloration or aging spots, skin laxity and presence of wrinkles, and overall evenness are assessed. We spend a considerable amount of the consultation discussing your daily skin routine from your face wash in the morning to the type and brand of your makeup and cosmeceuticals. Your skin history, including tanning and sun exposure, history of skin disorders, and topical and systemic medicines used, are then investigated. Only when a complete picture of your skin health is created, a bespoke skin routine can be crafted that maximally suits your needs and concerns.
Several of the treatments available for flawless skin are listed below. To create your custom skin care regimen, Dr. Saman will select a customized single-modality or a combination of treatments that best suit your desires and look.
With so many options available, a full consultation is needed for Dr. Saman to analyze your skin, discuss various options available along with their pros and cons, and to go over your specific wishes and wants. Once that process is completed, Dr. Saman will guide you through selecting a customized treatment that best suits your anatomy and compliments your desired look. Some available options can be summarized below.
Click on each treatment to learn more.
Skin Options

Temporary decreases appearance of fine lines and wrinkles

Used to temporarily volumize and contour the face

Helps stimulate collagen synthesis to improve overall skin texture

Gold standard of skin rejuvenation with combined modality effect

Removes superficial skin wrinkles, scars, aging spots and blemishes

High intensity light used to reduce appearance of vascular lesions, redness, broken capillaries and sun spots

Harnesses the natural healing power of your own platelets stimulate collagen and elastin production; can be added on to most treatments to optimize results

Permanent nonsurgical modality tightens and contours skin to achieve surgical-like results

Exclusively formulated by Dr. Saman, our skin care line has all that your skin needs and none of what it does not.

Daily Skin Routine

Customized skin care tailored just for you for long term results
Reviews
"From? the? family? of? Hunter? Burkhalter:One? year? ago? today,? we? were? blessed? by? Dr.? Saman? coming? into? our? lives.? Hunter? was? involved? in? a? severe,? life-changing? automobile? accident? in? which? his? face? was? significantly? damaged.? Most? of? the? bones? below? the? eye? were? shattered,? both? upper? and? lower? jaws? were? broken? and? the? lower? lip? was? ripped? in? half.? ? Dr.? Saman's? expertise? is? evidenced? a? year? later? as? we? look? at? Hunter's? beautiful? face.? You? would? never? believe? he? suffered? such? injuries.? In? fact,? no? visible? evidence? remains!? In? addition? to? his? medical? expertise,? Dr.? Saman's? bedside? manner? and? level? of? compassion? is? impeccable.? He? is? the? kindest,? most? thorough? doctor? this? entire? family? has? ever? encountered!Our? faith? tells? us? that? it? was? not? by? chance? that? Dr.? Saman? was? there? for? Hunter? that? night.? Thank? you? Dr.? Saman? for? everything? you? contribute? to? t"
- A.B. /
Healthgrades /
Mar 25, 2020
"I have seen Dr Saman twice now and every time is better then the last. He and staff are personable, knowledgeable and helpful. I really appreciate his and the entire staff expertise."
- K.H. /
Yelp /
Mar 15, 2020
"Dr. Saman has been fixing a scar on my forehead above my eyebrow. After doing Morephus8, Botox, and separating the scar tissue from the muscle the scar is completely gone. I'm utterly amazed at my results. If you are looking for an intelligent doctor to come up with the very best treatment course for you check him out!!!"
- A.J. /
Yelp /
Feb 08, 2020
"I went to Dr Saman for surgical removal of my thyroid.  While no one wants to go through surgery for cancer, Dr Saman and his staff made the experience as easy as possible and did a great job minimizing worries.  There is always a ton of testing, coordination and review and his team did an amazing job.  Highly recommended him for his surgical skill and his office for their prompt, efficient, quick assistance.   After I heal from this surgery, I will gladly use him for his surgical skill in plastic surgery."
- M.P. /
Yelp /
Jan 12, 2020
"I never write reviews, but I could not pass on an opportunity to express how amazing Dr. Saman and his team is. I've hated the shape of my nose since I was about 12 or 13. After doing lots of research on rhinoplasty, I felt that Dr. Saman was the perfect man for the job. I went to the consultation, and him and his team were so sweet and supportive. You can tell that they really care about your concerns and I immediately knew I was in good hands. The surgery is over now, and I am 100% satisfied with the results. I think Dr. Saman and his team were just as excited as me during the reveal. These people live to see their clients smile! I can't say enough good things.  Amazing experience."
- K.A. /
Yelp /
Jan 07, 2020
Previous
Next